Impactful Stay in Poland for Amarillo College Presidential Scholars | News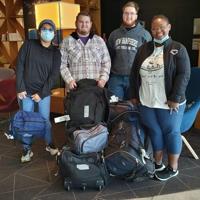 Krakow, Poland, is only 800 miles west of war-torn Ukraine, and refugees had already started pouring into the city when a group of 28 former and current Amarillo College students arrived there for an unusual study abroad experience.
The 10-day stay began March 10 and not only fulfilled the promise of unique international travel opportunities conferred on all students of AC's Presidential Scholars program, it immersed them in an emotionally charged environment.
Fellows visited all the iconic sites of historic Krakow – the Weiliczka Salt Mine, the infamous Nazi concentration camps, cathedrals and tombs – but they also witnessed moving wartime demonstrations and even helped, as far as they could, refugees young and old.
"It was a bit heavy knowing what was happening in Ukraine," said Paloma Zamarripa, an AC general studies student. "We even hosted war refugees in our hotel. But the people of Krakow all had so much hope and you felt this great sense of community.
"Seeing people helping others, their good neighborliness, was so heartwarming that it made me wish we saw more of them back home in Amarillo and Texas."
AC Fellows originally intended to visit Poland in March 2020, but the pandemic stifled those plans again and again in 2021. Thus, AC invited all fellows from its two previous cohorts to accompany the harvest of this year.
The expedition was funded by the Presidential Scholars program. Among those who accepted the invitation were six AC graduates currently attending West Texas A&M University, one each now at Texas Tech, Texas State, and the University of Texas, and about 20 current AC students and recent graduates. .
For Justace Smithson, a general studies student at CA, the experience was decidedly transformative.
"Everything was so beautiful and it changed my life forever," Smithson said. "I am enrolling in classes to learn to speak Polish so that I can go back there one day and teach.
"We went to a day care center for Ukrainian children," she said. "They were small children, many of whom had fathers still in Ukraine who were fighting. It was so scary to think that they didn't have their parents or even their own stuff or toys, so we bought them coloring books and crayons, and they were so grateful. I will definitely go back.
Accompanying the Scholars are CA President Russell Lowery-Hart and CA Faculty Members Michelle Orcutt and Presidential Scholars Program Coordinator Lesley Ingham. WTAMU historian Elizabeth Clark, who is a Polish Fulbright alumnus, as well as a self-paying WT student, also joined us.
"It was a rewarding and wonderful trip," Ingham said. "Of course, we had apprehensions about the war and thoroughly investigated the situation beforehand. We asked a lot of questions to make sure it would be safe. We had some dropouts.
"But it was safe. We learned a lot and were able to play a small part in helping some of the refugees. Our group was so enthusiastic and expressive; the leadership was fabulous and the students were a dream. Best trip of my life," she said.
The Fellows did fundraising before leaving the United States, and so they were able, through Clark's connections in Poland, to donate $1,500 to those who made repeated trips to the border to transport refugees from Ukraine to Krakow. Clark also led an effort to fill several travel bags with supplies – wipes, basic medical supplies, hand warmers, rain ponchos, and more. Fellows contributed for supplies and delivered the bags to a local humanitarian center.
Ingham, whose scholarship recipients typically spend months studying the history, customs and culture of their destinations, said the students were impressed by the architecture, monuments and even the Polish people, who speak extensive English. .
However, what also impressed the band were sights and sounds they would never have encountered in recent years: war protesters waving flags and singing songs in Rynek Square; the row of child car seats on the sidewalk outside their hotel, belongings that Polish mothers had generously left there for use by Ukrainian parents in need.
"Poland's history dates back to 966," said Cadence Lowery-Hart, an AC music student. "Some of the buildings that still exist date from this period; you are literally surrounded by history there, whereas for us the history sometimes only goes back to the 1920s.
"But when we visited a tour guide at (Nazi death camp) Birkenau," she said, "we literally understood what it means when people say 'history repeats itself.' because she admitted, because of the war nearby, to questioning the value of what she had told tourists there for years, that something like the Holocaust could no longer never reproduce.
"I almost didn't go to Poland, not only because I thought it might not be safe, but because it was morally wrong to go on a school trip when families were losing their homes and more. again because of a dictator next door," she said. noted. "But once we got there, it seemed even more morally wrong to stay in the comfort and safety of my own home when I might have been able to help even one little.
"I know it's a cliché," she says, "but this trip was truly life changing, something I will always take with me wherever I go."