As some of the country's main art spaces reopen after the closures, a state gallery that has avoided most of these measures has also relaunched.
WA's premier art institution, the Art Gallery of WA (AGWA) unveiled its largest Western Australian art exhibit to date, which it presents in its newly transformed spaces to mark a new era for the gallery.
A NEED TO REBUILD
Despite the avoidance of restrictions encountered in some other states, the past year has been a quiet one for AGWA audiences.
Although the gallery remained open, there were no blockbusters and some spaces were closed intermittently. AGWA has, however, worked hard over the past 12 months to reframe its agenda and update it for a more solid path forward.
AGWA director Colin Walker told ArtsHub that when he started in the role (as interim director from September 2019, permanently from March 2020) he could see that a change was needed.
"The gallery has had a few tough years," Walker said to himself. "Hearings were on a long-term downward trend, both in absolute and relative terms. Finances had also slipped a bit. I inherited [an operational budget] debt of about half a million.
We knew there had to be a change in the way we had to do things.

Colin Walker, Director, AGWA.
One of the gallery's first moves was to appoint a guest art director to help Walker and his team activate their new vision. The gallery chose WA-born New York artist Ian Strange, and Walker attributes much of the change in AGWA to Strange's 15-month tenure.
'Ian brought some really smart touches to give [the gallery spaces] a good sense of space and scale, "Walker told ArtsHub, adding that the artist's training in photography and film had led him to make lighting a priority.
"Ian told me that most of the time when art is photographed in a gallery, it comes out very green, because of the lighting," Walker explained.
"So we replaced all the lights inside the gallery, which I don't think people will actually notice. But that's the kind of eye Ian brought to those kinds of decisions, and the way he helped navigate these big changes that the gallery needed to achieve was phenomenal.
MODIFIED SPACES BRING NEW LIGHT
Another part of reimagining AGWA's identity was to take a close look at AGWA's architecture and reconsider its design against its purpose.
AGWA is a modern brutalist building designed by Polish-born architect Charles Sierakowski in 1979. Perhaps its most notable feature is its giant concrete staircase that spirals upwards in its center, allowing a clear view of the center line on its three levels.
However, parts of the building's original plans were never carried out. Visitors to AGWA may never have noticed it, but some of the floor-to-ceiling windows of the building have always been planked and its roofs have remained largely out of sight.
These aspects were among those reviewed by AGWA over the past year, as they undertook major capital works to open up previously restricted areas.
Now, after various delays (mostly due to COVID-induced supply issues), AGWA's renovations are complete and the changes they've made to the gallery are evident.
Various gallery windows are now fully open and the roof of the building has become a 500-person venue that includes a sculpture walk showcasing some of the most iconic bronze works in the State Collection (including the public favorite Der Rufer (The Appellant), 1967, by Gerhard Marcks, which has been moved from the entrance on the ground floor of the gallery to the top of the building).
Read: Why we need to reorganize our Australian art collections
They have also added a new exhibition space to their upper level interior which is filled with natural light.
"Before, you would go up to the top floor and find yourself facing a white wall," Walker commented. "But now, when you go up that internal elevator to the top floor, it's a huge open-concept gallery with a full view of the city in the background."
A NEW ERA BEGINS LOCAL
After more than a year of preparation, AGWA is clearly keen to share its new vision with the public.
In doing so, they kicked off their historic exhibition with more than 360 works from Western Australia, including 111 new commissions from artists from Western Australia.
Vast and diverse, the show is called The view from here, A celebration of the art of Western Australia, and signals the gallery's new approach to building strong relationships with local artists.
Walker said that for him close ties to the local sector are important to how he sees the gallery moving forward, especially in light of their struggles during COVID.
[When COVID happened] we went directly to our Foundation to ask them to put money [$1.5 million] directly in the area.

Colin Walker, Director, AGWA.
"We gave every living artist in Western Australia [in our Collection] $ 2,000 from this fund, "he continued. "We are also committed to purchasing work from each of our [WA] Aboriginal art centers, and where there is no art center, we bought works directly from artists. '
Walker said this unprecedented initiative to directly support artists in Western Australia was part of his vision for the gallery as a contributor to the greater good of society.
"It set a philosophical tone which is also very important to me, namely that we are not just an organization that receives, we give," he said.
The view from here open to the public on November 6 and is an epic showcase of AGWA's revitalized spaces. In addition to showcasing installations by artists like Tarryn Gill and Bruno Booth, audiences can reconnect with their favorite art from the gallery's WA collection, in exhibits that put older works into conversation with more recent pieces.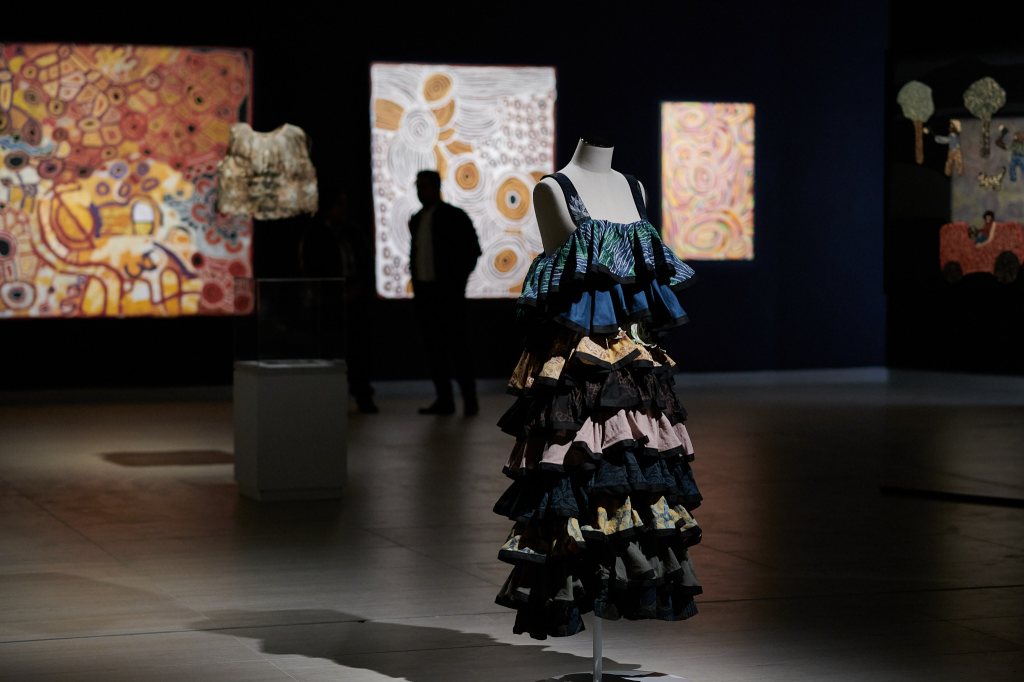 And in what is billed as the centerpiece of the exhibition, on the gallery's first floor, curator Yamaji / Noongar Tui Raven has brought together over 60 new works by Aboriginal artists from Western Australia under the title Collective land.
Collective land spans painting, printmaking, sculpture and screen works, and each piece is installed under the spotlight against the black gallery walls, which frame the works almost like a night sky. Painting winner of the Telstra NATSIAA Prize 2021 by Timo Hogan Barker Lake (2020) rubs shoulders with works like that of Lawrence Pennington Pukura (2020) and Bob Gibson Warlurtu (2018), in a section devoted to the stories of the male creation line.
On the other side, a series of stories from the female creation line are on display, through paintings, textile works and objects, leading to the collaborative painting of Spinifex women. Kungkarrangkalpa (2020) which is installed on the north wall.
Read: How the legacy of a festival changes perception
Although different The view from here other special exhibitions (of which there are ten in total), Collective land will be open for a limited time (November 6-14), and will return in 2022 for a longer period as part of a First Nations Full Gallery exhibition event that has yet to be announced.
But perhaps the most impressive, and certainly the most important, new commission, now on permanent display, is the work of Noongar artist Christopher Pease. Targets (2020), which can be seen in the roof space of the gallery.
This is a 34-meter mural based on a landscape drawing by colonial artist Frederick Garling Jnr (1827), which shows the lands of WA in part what they once were, but in part how colonization had an impact on ecology and culture.
Most striking are the series of blue and red targets that Pease has placed on the stage – both in nod to the influence of American artist Jasper Johns on his practice, and to signal notions of attention. and attack on the landscape.
The piece proudly presents itself as the largest commission ever made by AGWA, purchased through the Foundation Gallery's TomorrowFund in 2020.
"It's such an amazing job," Walker reflected. "Not only because it's intensely political and subversive, but it's also a very, very beautiful work of art," he said.
The View From Here is now at the Art Gallery of Western Australia.